"The marine world is a mystery to most of us; less than 10 percent of the oceans have been explored. No part of the oceans is unaffected, however, by human activities. Shamelessy, we pollute, exploit, and destroy a world that we know very little about."
-Yann-Arthus Bertrand (Excerpt from Haiti from Below)
Haiti. Beautiful blue seas with breathtaking mountainous landscapes- all make it a charming surprise for tourists. But Haiti is arguably more recognized internationally for its natural disasters or acute poverty. How can a community with an abundance of natural resources remain the poorest in the western hemisphere? Why is the environment so degraded? Preserving Haiti from Below: The Exhibit will initiate change by educating youth on marine biodiversity and its connection to the broader environment.  It will share content that indicates how human behavior towards the environment actually stagnates job creation. It will teach those who visit how coral reefs actually protect us from storm waves and create our beautiful white sand beaches.It will impact a generation of change-makers.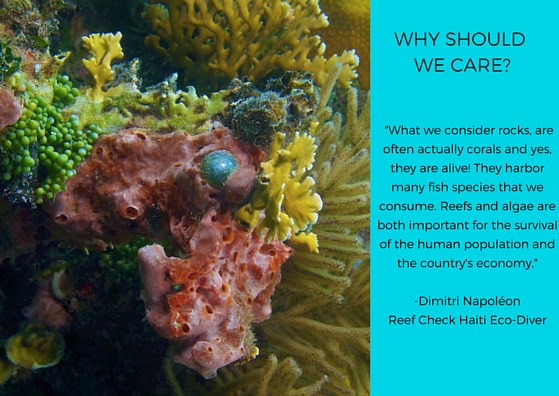 Why does The Exhibit need to be produced? In December 2015, Haiti was referred to in Paris (COP21) as one of 3 countries on the brink of environmental collapse. Less than 2% of forests remain; only 15% of coral reefs along the coastline are healthy, due to erosion, overfishing, and waste pollution. In order to save whatever natural resources remain, we must start by educating the community, and especially the youth, on the impacts of human behavior.Children are the future. In every nation, rich or poor, their perspectives and behaviors ultimately determine the future direction of a country. Media. Culture. Economy. The key to progress is to influence their perceptions and future actions.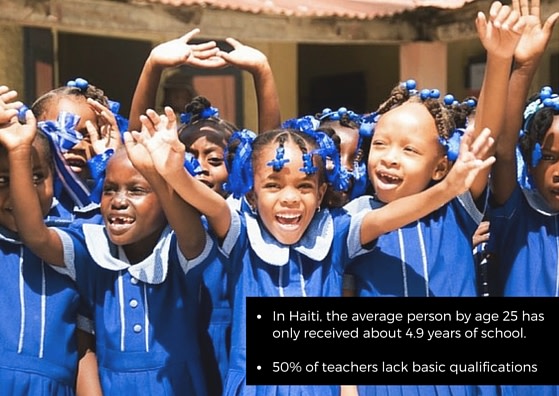 In Haiti, environmental issues are not taught in traditional schools. As a result, adults have very little understanding of the ecosystems and show little respect for animals and plants. Culturally, Haitians also tend to have a disconnect with natural elements and a certain fear of the ocean.
Through The Exhibit, we want to explain the relationship between trees cut on the hilltops and the destruction of the corals, the increase in floods and drought, the disappearance of jobs, and the loss of prospects for future happiness.
What will The Exhibit entail?
Events catch attention, but experiences are remembered.
Making use of multisensory tools (still and moving images, sound, lighting, and tactile artifacts), The Exhibit is designed to be an unforgettable and immersive underwater experience for Haitian school children of all walks of life.
Our plan:
Who is producing The Exhibit? AYITI NEXUS, a consulting firm committed to Haiti's development, has a credible track record leading creative projects that encourage public dialogue and bring sustainable solutions to recurrent challenges. Previous and existing clients include international development agencies, non-profits, prospective investors, research institutes from different parts of the world. Principal consultants of the firm show significant interests for environmental sustainability issues.
How is the budget broken down? Based on our years of consulting across various sectors, we have put together a detailed financial plan made of estimated costs for the production of an exhibit of exceptional quality. The budget is broken down in two categories of production: Category 1: Exhibit Content – Printing of photos and catalog, framing, audiovisual production, take-away gifts for students and other visitors Category 2: Labor – Project coordinator, curator, graphic designer, translator, film producer, sound and lighting expert, etc. The estimated costs total $50,000.00. We hope to raise half of this amount with your help.
Ways You Can Help? Share the video with your family and friends to spread the word about "Preserving Haiti From Below: The Exhibit". Even better, show your support financially by backing the campaign. If we make this happen, we can reach 10,000 kids, giving them the only opportunity they will have to learn about marine life, how it ties to life on land, and the importance of biodiversity conservation. We truly count on your support.